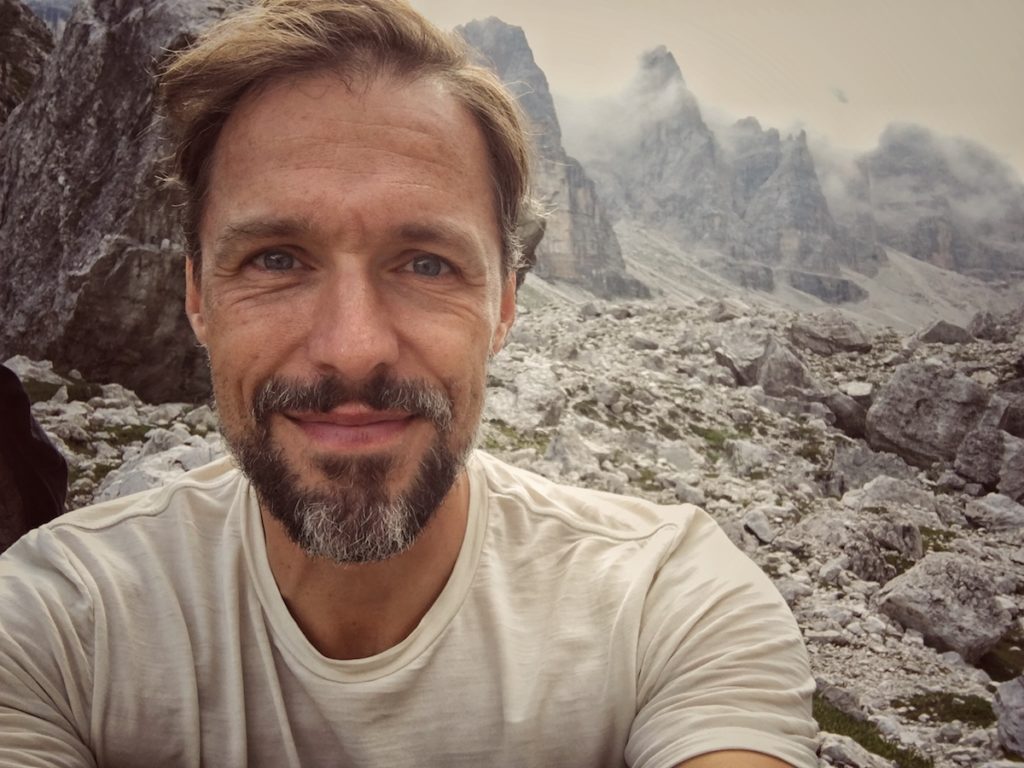 Christian Klant
Christian Klant ist Spezialist für handgemachte, analoge Fotografie. Mit dem Kollodium Nassplatten Verfahren fotografiert er sogenannte Wet Plates für freie Projekte und Auftragsarbeiten. Mit einem eingespielten Team realisiert Klant aufwendige Produktionen und lässt Bildwelten entstehen, die der Zeit enthoben scheinen und gleichzeitig einen modernen Twist aufweisen.
Ausgerüstet mit Großformat-Kameras und einer mobilen Dunkelkammer werden die Bilder direkt nach der Belichtung vor Ort entwickelt. Das ermöglicht eine schnelle Beurteilung der Ergebnisse und schafft Raum für die Feinabstimmung. Durch den gekonnten Einsatz unterschiedlicher Objektive wird die klassische digitale Bildbearbeitung überflüssig.
Der Detailreichtum der hochauflösenden Scans ist beeindruckend, die Auflösung um ein vielfaches höher, als selbst die der modernsten digitalen Mittelformat-Kameras.
Marken, denen Wertigkeit, Authentizität und eine spannende Geschichte wichtig sind, wissen zu schätzen, dass Klant ein Meister darin ist durch seine Fotografien genau diese Attribute sprechen zu lassen.
Die außergewöhnliche Ästhetik und Tiefenwirkung seiner Bilder wird mit den Arbeiten von Paolo Roversi, Sarah Moon und Irving Pen verglichen.
Christian Klant ist Professional Mitglied im BFF, veröffentlichte 2014 sein erstes Buch "100 Wet Plates – 100 Words" und wird international ausgestellt.
Christian Klant specialises in handmade, analogue photography. With his main technique, the wet plate collodion process, he photographs for art projects and commissioned works. With a well-rehearsed team, Klant realizes elaborate productions and creates image worlds that seem removed from time while simultaneously revealing a modern twist.
Equipped with large-format cameras and a mobile darkroom, the images are developed on site immediately after exposure. This enables a quick evaluation of the results and creates space for fine-tuning. The skilful use of different lenses renders classic digital post-processing redundant.
The rich detail of high-resolution scans is impressive, the resolution being many times higher than that of even the most modern digital medium-format cameras.
Brands that are aiming for value, authenticity and an exciting story appreciate Klant for his master yat letting these attributes speak for themselves through his photographs.
The extraordinary aesthetics and depth of his pictures are compared to the works of Paolo Roversi, Sarah Moon and Irving Pen.
Christian Klant is a professional member of the German Association of Photographers (BFF), he published his first book "100 Wet Plates – 100 Words" in 2014 and has exhibited internationally.
Exhibitions
October 2022 'Places of Resonance' Max Hünten Haus, Zingst
August 2022 'Places of Resonance' Südwestfalen Galerie, Schmallenberg
June – August 2022 'GUARDIANS', Showroom Simone Klein, Cologne
September – October 2021 'LAND/SCAPES' Prince House Gallery, Mannheim
August 2021 'Work on the red wall' Berlin Photo Week
June – July 2021 BFF Aufschlag No. 12, Hamburg
Juli – August 2020 Artfair Manheim
February – March 2020 "Zwischenwelten" Prince House Gallery, Mannheim
October 2019 A.I.M.P.E' 2019 Award, Tokushima (JP)
June – September 2019 "Your Signature" 50 Jahre BFF, Stuttgart, Berlin, Hamburg
June-July 2019 "The Handmade Photograph", Santa Fe (US)
October 2018 BFF Triebwerk "reverse forward", Berlin
May – July 2018 Museum Solo Show
"Berg | Mensch | Technik | Heimat" Siebengebirgsmuseum, Königswinter
March – April 2018 "Light Sensitive 2018"; Art Intersection, Gilbert (US)
February – March 2018 "Time Machine" Galerie Sehnsucht, Rotterdam (NL)
December 2017 BFF Triebwerk "Polaroids", Berlin
November 2017 Fine Art Forum, Paderborn
September – November 2017 "Making Off – Der Fotograf Frank Stöckel"
Ostholstein-Museum, Eutin
September 2017 "Glück", Leipzig
June – July 2017 SICHT WEISE, Stuttgart
June 2017 "Neue Horizonte" Persihel & Heine, Hamburg/MS Europa
May 2017 BFF Aufschlag No 9, Hamburg
December 2016 – January 2017 "Trees", A Smith Gallery, Johnson City, Texas (US)
October 2016 BFF Triebwerk "Reduktion", Berlin
September 2016 "90 Jahre F.C. Gundlach" Spinnereirundgang, Leipzig
April 2016 BFF Aufschlag No 8, Hamburg
February – March 2016 PORTRAITS – Hellerau Photography Award, Dresden
January 2016 Art Palm Beach (US)
December 2015 – February 2016: "In the heat oft the night"
Continuum Gallery, Königswinter
November 2015 analog mania, Timisoara (ROU)
September 2015 Art.Fair, Cologne
August 2015 "By the Books", VCP | Vermont Center for Photography (US)
June 2015 Revela-T Photofestival, Barcelona (ESP)
May – August 2015 "Alternative Photography"; Zahradník Museum, Prague (CZ)
May – June 2015 "Mountains and Magical Places"; Continuum Gallery, Königswinter
April 2015 ART BREDA (NL)
March – April 2015 "Light Sensitive 2015"; Art Intersection, Gilbert (US)
December 2014 – March 2015 "In the heat oft the night"
Continuum Gallery, Königswinter
December 2014 – February 2015 "Wet Plate Portraits & MOVEMENTS"
Gallerie Lukasczyk, Darmstadt
June 2014 "PORTRAITS"; Vandenberg Berlin
April 2014 PREVIEW "100 Wet Plate – 100 Words", Licht-Raum-Berlin
April 2013 Benefiz-Exhibition for "WASH-United Uganda", Berlin
April 2013 "LUMINAS | AQUA | MOVEMENTS"; Galerie Rotter, Berlin
Publications
summer 2022 Places of Resonance (book)
June 2022 PHOTONEWS (article and artist feature)
November 2021 Analog Forever Magazin 'GUARDIANS Seascapes' (portfolio feature)
September 2021 PHOTOGRAPHIE – 'The artist Christian Klant' (portfolio feature)
July 2021 'Don't Press Print. De/Re-constructing the collodion process' (scientific article in book)
April 2021 PHOTO International – 'Largformat Photography in Wet Plate Collodion' (portfolio feature)
March 2021 PHOTOGRAPHIE – 'The artist Christian Klant' (portfolio feature)
January 2021 PhotoKassik – 'Kollodium-Nassplatten-Lanschaften von Christian Klant (feature article)
November 2020 WDR Television 'Sauerland Seelenorte' (TV feature)
October 2020 ProfiFoto – 'Wet Plate Seascapes' (article and artist feature)
October 2020 Fotogloria – '#FacesOfPhotography' (artist feature and interview)
September 2020 RFOTOFOLIO – (artist feature and interview)
May 2020 Collodion News No3 – 'GUARDIANS – Wet Plate Seascapes' (article and artist feature)
December 2019 WDR Television 'Sauerland Seelenorte' (TV feature)
September 2019 stern magazin – "Mit Fotos die Welt erfühlen' (feature in article)
August 2019 shuttertalk – Florian W. Müller (Podcast)
January 2019 Spider Awadrs Winners Book – (artist feature)
August 2018 Darkroom Underground – (article and artist feature)
April, May 2018 Zeha Berlin Blog – 'Ein Interview' (blog feature and interview)
March 2018 BFF Magazin No8 (presentation in portfolio section)
August 2017 WDR Television 'Fotografieren wie vor 100 Jahren' (TV feature)
July 2017 PHOTOGRAPHIE – 'Glasplatten Landschaften' (feature landscape photography)
July 2017 PHOTONEWS – 'Nasse Füße, trocken scharf. Wet Plate-Werbefotografie' (feature article)
May 2017 BFF Magazin No7 – 'Alles hat seine Zeit'' (portrait feature)
March 2017 PhotoKlassik – 'Klarheit und Tiefe – Wet Plates in der Königsklasse'' (portfolio feature)
January 2017 'The Carbon Print' – by John Lockhart, Sandy King (artist feature in book)
December 2016 'TREES' – A Smith Gallery (exhibition cataloque)
July 2016 Zeha Berlin Blog – 'Ein Interview' (blog feature and interview)
June 2016 90 Jahre F.C. Gundlach – (group publication)
June 2016 PhotoKlassik – 'Kollodium Nassplatten Portraits' (portfolio feature plus cover)
February 2016 Das Magazin – 'Respekt vor der Kamera' (feature of portrait work in wet plate collodion)
February 2016 PORTRAITS – Hellerau Photography Award, Dresden (exhibition cataloque)
January 2016 Kwerfeldein – 'Das Nassplatten-Verfahren' (blog article)
September 2015 'Journal No1' Stiftung Photographie schwarzweiß (book publication)
December 2014 Continuum Gallery (exhibition cataloque)
December 2014 "100 Wet Plates – 100 Words" (book publication)
November 2014 Kwerfeldein – '100 Wet Plates – 100 Words' (blog article)
October 2014 'the collodion BOOK!' by Martin Jezik (artist feature)
May 2014 theo magazin – 'Sieh mich an!' (feature wet plate portraits)
Keynotes, Panels and live Demos
April 2022 "The seascapes of Gustave Le Gray" Museum für Fotografie, Berlin (keynote)
August 2021 'Wie kommt Fotografie ins Museum?" (panel discussion, moderation)
June 2021 The International Conference on Stereo & Immersive Media (keynote)
April 2021 Shaikh Ebrahim bin Mohammed Al Khalifa Center for Culture and Research, Bahrain – (artist talk)
October 2020 The Royal Photographic Society – 'Don't Press Print – Symposium' (keynote and panel discussion)
August 2020 AUS LIGHT GEBOREN – Siegfried Utzug (opening speach)
May 2020 AnalogueNOW Meetup (artist talk)
October 2019 "Digitalisierung und Wahrnehmung der Fotografie", BFF München (panel discussion and keynote)
September 2019 BETTER.FASTER.FORWARD, Hamburg (panel discussion)
August 2019 50 Jahre BFF, Berlin 'BFF Art Lab' (keynote)
Juni 2019 50 Jahre BFF, Stuttgart (panel discussion and keynote)
May 2019 AnalogueNOW Festival, Berlin (live shooring and keynote)
October 2018 BFF Triebwerk, Berlin – 'Weil heute morgen gestern ist' (keynote)
September 2018 Siebengebirgsmuseum (artist talk and wet plate live demo)
November 2017 Fine Art Forum, Paderborn – 'Weil heute morgen gestern ist' (keynote)
October 2017 Olympus Playground, Berlin – 'Wet Plate Photography' (keynote)
October 2016 BFF Triebwerk, Berlin – (wet plate live demo)
May 2015 Continuum Gallery, Königswinter – 'Magische Orte' (wet plate live demo)
May 2014 Licht Raum Berlin – Wet Plate Preview-Exhibition (wet plate live demo)